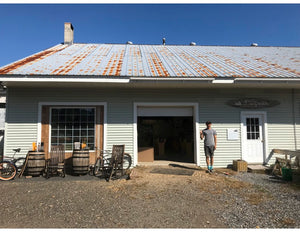 Grain Surfboards Changed My Life
There are experiences in our lives that shape who we are and in May of 2011 I had one of my favorite experiences so far and it helped shape an unimaginable amount of events in my life. Tucked in the corner of southern Maine sits a small town that you have probably never visited or heard of with a surfboard company that you may have never heard of either, Grain Surfboards.
Founded in 2005 on a little farm in York, Maine, Grain Surfboards was built from the ground up on the love of boardriding, woodworking, and sustainability. See, Grain does things differently than most surfboard shaping companies out there. Using sustainable cedar grown in Maine they have made it their mission to reduce the toxic footprint that traditional foam core boards leave behind.
For Christmas my amazing wife gifted me with a week long class with the Grain crew where I would head up to York and camp on the farm they had at the time and build my own cedar surfboard.
I had no idea what to expect with this process and I had never worked with wood prior to this and I only had minimal experience with most of the tools we would use. My instructors for the week were Brad and Nolan and they made the whole process super relaxing. Nolan has been a staple fixture at the shop for years and has worked his way up to Class Manager and Board Designer. There's not a day that goes by that the guy isn't looking for waves in between the millions of things he does for the shop everyday. He's a really solid guy even though he won't share secret wave locations with me. It's cool, I still appreciate you, Nolan.
Anyway, we would start everyday with a quick meeting of where we were in the process and what our goals would be for the day. Building a board this way is much like building a wooden boat. It's a long and tedious process, but each step is crucial in making sure that the following step goes as smoothly as possible. I would highly suggest getting one of those hand exercisers for the weeks leading up to the class, trust me, the 100's of clamps you'll use for the rail strips will kick your butt if you're not ready for them.
The ENTIRE week I was up there we had a Nor'Easter parked off of Nova Scotia (amen) sending us head high waves. Nolan and I surfed everyday after class until dark before I headed back to the tent for the night. It was a pretty epic surf week even though we were in 5mil suits with boots and gloves because it's Maine in May.
By the end of the week every expectation I had for the trip had been blown away. I created an absolutely beautiful surfboard that quickly became my go to board for almost all levels of surf. Yeah, its definitely heavier and has a totally different feel than a "normal" board, but some of these differences are what made it the first board I would grab. The weight helped it fly down the line even when there was a little bump on the face and the buoyancy helps to offset the weight of my winter wetsuits. And, it's freaking gorgeous and will always be a conversation starter while sitting out in the water.
The friends I made that week are the some of the best humans and I'm honored to tell people that I know them. The owner, Mike Lavecchia, is one of the nicest people you will ever meet. He is one of those people that you will always want to give the biggest hug to and without a doubt have the best conversations with while standing around a fire pit. His warmth and hospitality are one of the many reasons I head back to Maine every year whether there are waves or not.

Mike and his crew have built an entire culture around their vision and a lot of it has to do with a festival called Surf Re-Evolution that they have thrown almost every year, exceptions being Covid years, and invite artists and creators from all over the world. In the 10 years since I started going to this event I have met iconic surf artist Andy Davis. Surf and Earth Health warrior Cyrus Sutton. Iconic East Coast surf documentarian and photographer Nick Lavecchia, Mike's brother. Surfboard shaper Jon Wegener and friend upon friend that I can't even list here.
York and Grain Surfboards changed my life and I can guarantee it'll do the same for you. If you're interested in learning more and attending a class to build your own board check out their website https://www.grainsurfboards.com/ and shoot 'em an email. They'll get back to you as soon as their session is over or they get back on land from sailing up the coast.
Love you guys. See you soon.
---
1 comment